Ultra Light, Ultra-Thin Lenses
Ultra-Light, Ultra-Thin polycarbonate lenses ensure you get the thinnest lens possible which helps to decrease the "bug eye" effect with higher prescriptions & ensuring your child's glasses are lightweight and comfortable

Includes a 1 Year Normal Use Warranty & Anti-Reflective + Scratch-Resistant Coating & UV protection
HIGHLY RECOMMENDED for any prescriptions with SPH value of +3.00 or greater or -5.00 or less

HIGHLY RECOMMENDED

 for CYL value +2.00 or greater or -2.00 or less
REQUIRED upgrade for any prescriptions with SPH value over +4.00 or CYL -2.00
*Our lab will use a Polycarbonate Aspheric lens or a High Index lens depending on which will provide the best visual clarity and thinnest, lightest result.
* Some high prescriptions may have an additional $39.00 or $49.00 fee for custom lenses, we will contact you if this is required for your order.
Your purchase is powerful.
With each pair of glasses sold, we find ways to help people maintain their vision. This means more than donating a pair of glasses with each purchase. In some parts of the world, people need more than that. Like Vitamin A or access to simple vaccines that can keep an entire family from going blind.
Learn More
Customer Reviews
Write a Review
Ask a Question
Favorite frames!
The home try on kit was extremely helpful. My son was really excited about choosing a pair of glasses. Ordering was easy, they answered all my questions in a timely manner and we received the glasses within 7-10 business days. I will definitely be back for another pair once my son has his next eye exam. The Miles Carmel fade are such a cute frame and we get compliments on them all the time. Quality is on par with what we paid twice as much for at optometrist. Lenses look great even though he has a high prescription they aren't too bug eyed. Even better than I'd hoped and my son's favorite pair of glasses!
Love, love, love the Paul!
Love this company and these frames! Sizing of the small has been a perfect fit for my son since he started wearing glasses at 18 mos...he's now 4. We've had many pairs through the years and keep coming back to this style. Love the addition of the springs on the temple pieces on recent models. It's made a huge difference in the durability of the frames especially for a child his age. Wish they'd bring back the navy and the black versions but still love them in tortoise!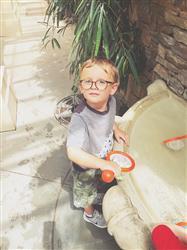 AWESOME look, lenses need work
These are by far the cutest glasses I've seen for little kids - he looks like such a big boy! Because of the thin lenses and shape of the glasses, even with a terrible prescription, he doesn't look bug-eyed. I do think the lenses need to be more resilient. After having them for a week, he had already put a couple of good-sized scratches in them, and he was being more careful than he was with his previous pair.
Love love
So cute and sassy we love them!
Wonderful company!
My experience was excellent. The glasses are perfect. Price is amazing. Frames are great! Will definitely order again from Jonas Paul and will highly recommend