Glasses for a Trendy Kiddo
Best Glasses for Your Trendy Kiddo
Finding out my oldest daughter needed to wear glasses made me sad and nervous about how hard it would be to get an independent three-year-old to wear them. We were told that she had signs of amblyopia (Lazy Eye) and that also scared me. Little did I know it is very common and her case was mild, but more on amblyopia another day.
When looking for her first pair of glasses I went with JCPenney's Optical. We pondered getting those "unbreakable" and expensive ones you see little kids wearing all the time, but I wanted her to feel comfortable in what she had to wear on her face daily. They were having a back-to-school, buy-one-get-one-free deal, so she got a bright pink pair and some brown backups that look like the glasses my dad (her Grandfather) has.
Within the first week we were sending them out for repair and that was the start of what seemed to be my endless hunt for quality glasses for kids that are fun, trendy and don't break the bank.
I kept seeing ads for a company called Jonas Paul Eyewear with kids in the cutest glasses. However, when I saw these ads I figured anything that looks that good has got to be out of my price range so I didn't consider them. At dance camp this summer another little girl came walking in with the cutest tortoiseshell glasses. I asked her mom where she got them and she told me Jonas Paul.
She told me about their process and that they did not cost an arm and a leg! I HAD to try them out for myself.
They are an online company, so for you to be comfortable with your choice of frames they send you a home try-on kit with all the options. This lets you see the quality of the glasses before ordering and helps you and your kiddo pick out the best fit for her or his little face.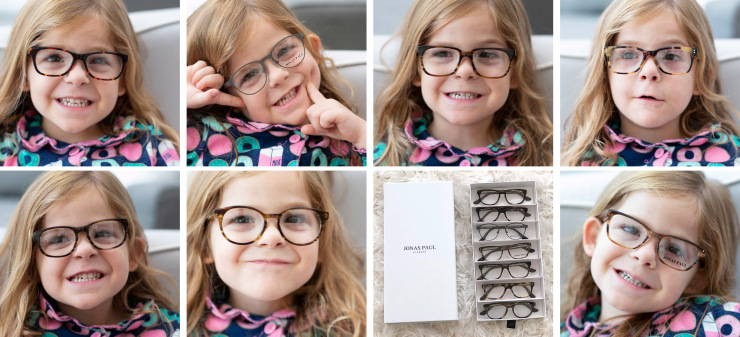 Once you pick your frames, you go online and pick the color and place your order. When they send you the try-on kit you, get a postcard that tells you how to (very easily) measure the distance between your child's eyes and poof! You're done. It's that simple!
Our daughter had so much fun trying on all the different frame options. We ended up ordering two pairs because we couldn't decide on what color we liked best. When it comes to kids having a backup is necessary, but it also gives them some freedom of choice when they get dressed in the morning. Caroline loves picking out what pair she is going to sport for the day.
We could not be happier with the process and our new glasses! My daughter gets compliments everywhere we go about her glasses now. See all their adorable Trendy children's glasses options here.
-----
Keep up with this cutie and her mama by heading to the link below!
https://www.ihustleforher.com/i-hustle-for-her/2018/10/09/best-glasses-for-your-trendy-kiddo-jonas-paul-eyewear