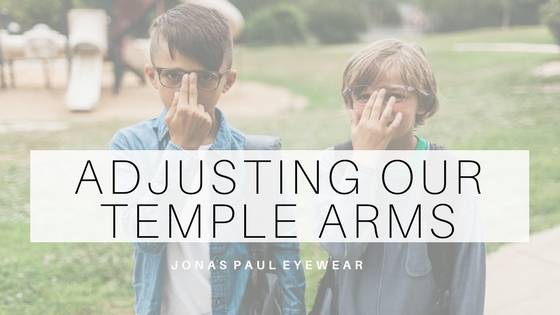 A very common question we receive from customers is:
"My child's frames seem a bit big. They keep falling down their face."
Our answer: Did you know we have adjustable temple arms? Many of our customers are unaware that each Jonas Paul Eyewear frame comes with adjustable temple arms to create that perfect fit around your child's ear.
With three simple steps, we put together a quick guide on how to adjust your child's temple arms and stop those glasses from falling down.
"Being able to adjust them from home to get the perfect fit is AWESOME. Totally genius." - Alie Jones
---
Take the glasses off your child's face, and begin bending the rubber tips where you made note of where the temple arms meet the back of their ear.
Few things to note:
It may feel a bit tough to bend the arms, but put a little muscle in it to bend them accordingly. We promise the tips will not break!

If the glasses begin to tip forward on your child's face, it means you bent the adjustable tip too far, just simply bend the tip back.

Look behind your child's ear to ensure that the adjustable tips aren't pushing too hard on the ear (or pulling the ear forward), as this can cause irritation over time. Just bend the tip back until the ear is back to its normal position.

Bending the tips to find the right fit might take a bit of trial & error, but you will get there.

Overtime, you may notice the tips straightening back out. Feel free to adjust the tips as often as needed!