You might be here for a variety of reasons:
-Your child needs glasses.
-All other options for your child are are too "childish."
-You don't have time to shop around at every optical store.
-You're worried about spending hundreds of dollars on the frame alone.
Whichever one it is, we are glad you found us! But now you might be thinking... okay, now what? And that's why we're here.
Together, we will find the perfect fit for your child! LET'S GET STARTED.
STEP 1: Order a Home Try-On Kit
This is such an important step. We do not recommend ordering a frame with prescription without having your child try on the frames beforehand!
Important Information about our home try-on kit:
-Two sizes available: SMALL or LARGE kits in either black or tortoise.
Small ranges from 4-7 years old: 44mm lens   //   15mm bridge   //   125mm temple arms
Large ranges from 8-12 years old: 48mm lens   //   16mm bridge   //   130mm temple arms
DUE NOTE: Black and Tortoise are the only colors we offer in our kits, not the only colors we have available for purchase! *Limited Edition colors are not included in the kit.
STEP 2: Find the "Right" Fit!
Your home try-on kit should arrive in 3-5 business days! And from there, you are able to try on our 6 different styles, in the comfort of your own home.
While trying on the different styles, feel free to bend the adjustable temple arms to create that perfect fit behind your child's ear.
You can find the name of each frame inside the temple arms. Once you find your favorite(s), write down the names of the frames.
After 7 DAYS are up, send us back the kit with the return label we included, and order your frame(s) online.  
STEP 3: Place your order online
Head to our website at jonaspauleyewear.com, click the frame that you would like to purchase (make sure to select PRESCRIPTION FRAME if you are ordering prescription glasses).
Select: ADD TO CART
After you have added the frame to your cart, make sure to select the appropriate lens upgrade. This part can be tricky, so we put together all the information for you to find the appropriate lens upgrade: Lens Upgrades & Pricing Information for Jonas Paul Eyewear
Once you select your lens, select: ADD TO CART, then you are ready to complete your purchase.
Still have questions? Email us at orders@jonaspauleyewear.com with your prescription and we can tell you what lens upgrade you will need.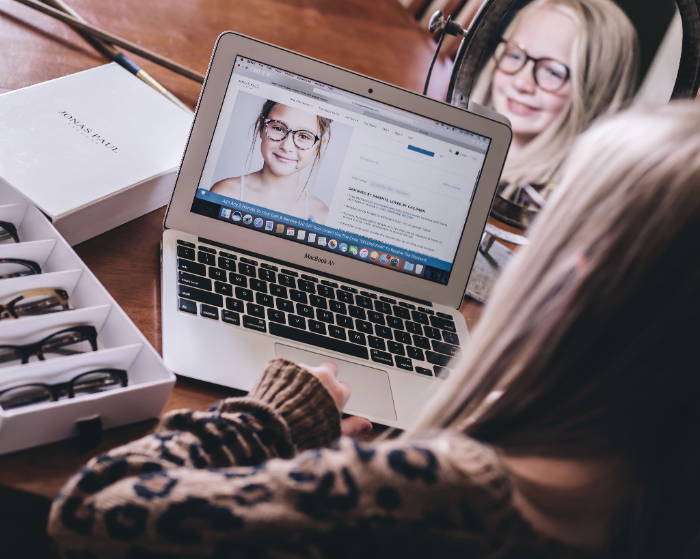 STEP 4: Send over Prescription and PD
You placed your Jonas Paul Eyewear order. YAY! Now there is ONE LAST STEP.
Make sure to send over your child's PRESCRIPTION and PD to orders@jonaspauleyewear.com as soon as possible!
This will ensure you receive your frames even quicker! Just place your order # in the subject of your email, and snap a pic your child's prescription with the PD written on it, and you are all set!
This is an important step. We cannot fufill your order until we have these two items.
Need help measuring your child's PD? Here is how to do so: MEASURING PD
Your order should arrive in 3-5 business days!
Now let's see those photos!
Once your child receives their new glasses, tag us at #jonaspauleyewear so we can share!